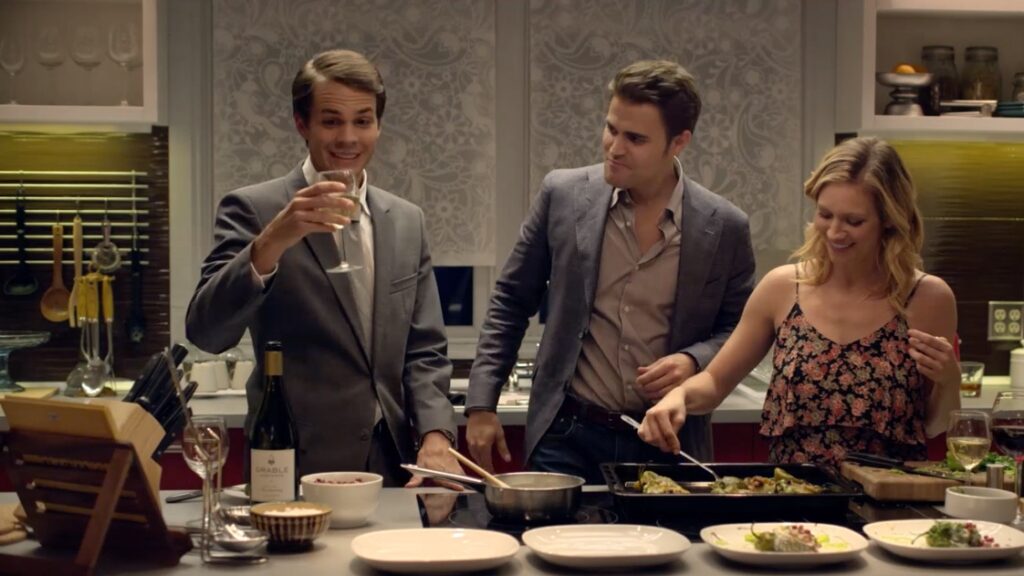 Grable Vineyards Chardonnay in The Late Bloomer

November 2016
Fall is here. Winter is coming!
It's time for Movie Night and a great bottle of wine!
Did you see our Chardonnay on the big screen with Johnny Simmons, Brittany Snow and Paul Wesley in The Late Bloomer? The movie won Best Comedy at the San Diego International Film Festival, and it's now available on iTunes and Amazon Video. So pick up a bottle of Grable for a fun Movie Night at home!
It's time to give thanks and make merry!
We'd love to deliver good cheer from our vineyards to your Holiday table! We have Magnums to make your gatherings extra festive… and a hand crafted, limited production Chardonnay or Cabernet Sauvignon is the perfect gift for everyone on your list.
It's time for our Holiday Wine Release!
Just in time for the Holidays, we are thrilled to release our 2013 House Creek Chardonnay and 2011 Patience Cabernet Sauvignon:
2013 House Creek Chardonnay
Wildly aromatic with expressions of melon, honeysuckle, lychee and spring flowers. Rich and purely decadent on the palate showing notes of pear, citrus oils and crème brûlée. Loaded with complexity and sophistication. 307 cases produced.

2011 Patience Cabernet Sauvignon
The nose reveals an intense bouquet of cassis, perfumed blackberry liqueur and liquorice with hints of violets. The palate offers rich, ripe black currant, figs and black tea, finishing with mocha and plush tannins. 98 cases produced.
Sign in to view your allocation and Holiday pricing (including 50% off ground shipping for six or more bottles to a single destination).
As always, we'd be delighted to help you with your holiday wine gifting. Wine gifting is fun and easy, and we'll make it extra convenient and super special by including a handwritten letterpress note with your gift. Just drop us a note with your wishes and requests!
Give thanks! Give wine! Cheers!
Peace on earth.
Grable Vineyards