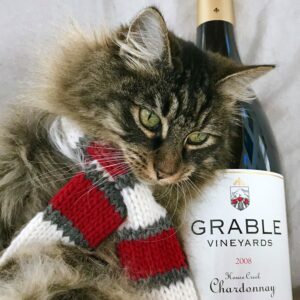 December 2017
'Tis the season for giving!
We'd love to deliver good cheer from our vineyard to your Holiday table! And we've got Magnums to make your celebrations big and festive! 100% of the proceeds from Magnum sales will be donated to North Bay Fire Relief to assist fire victims and to aid relief efforts after the devastating Northern California firestorms.
How the Grinch will NOT be stealing Christmas this year…
Who'd want a Grinch-heart two sizes too small? When a Magnum is big, with wine plenty for all!
And that big stunning bottle at your Holiday Feast? It's surely more elegant than any Roast Beast!
Fine Wine and Goodwill are two worthy prizes… And in giving, we'll find that our hearts grow three sizes!
With Fire Relief Aid, we'll show that we stand, both heart to heart, and hand in hand.
New Release!
We are delighted to announce the much anticipated release of our 2014 House Creek Chardonnay, 2012 Patience Cabernet Sauvignon and 2012 Liquid Twitter Cabernet Sauvignon. You're going to love them!
Wine gifting is fun and easy!
And we'll make it extra convenient and super special by including a gift tag or handwritten letterpress note with your gift! You can order online or drop us a note with your requests or wishes.
Order by December 12th for Wine Gifting and Holiday Shipping!
Visit us online to view your allocation and holiday pricing including 50% off ground shipping for six or more bottles to a single destination!
Grateful!
We are ever grateful to CalFire, First Responders, Firefighters, Volunteers, Neighbors and everyone else who fought so hard to save our beautiful Northern California communities! And we are grateful to all our Mailing List customers for supporting our wine country communities and local economy now as we rebuild… Drink California wines! Cheers!
Drink it! Share it! Gift it!
Peace on earth.
Grable Vineyards